Toad's Official Gear
Below is the latest in Toad's Street Gear and it's the hottest thing going right now. Join the legion of fans who support Toad by showing up in his official T-shirt. It's a high quality shirt that will last for a very long time. Just mail a check or money order to the address below for $15. This will include shipping and handling. Be sure to check back for more things to come including pictures and videotapes.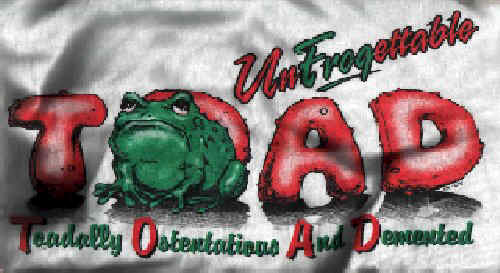 Send the check or money order to:
Toad
P.O. BOX 2991
KILL DEVIL HILLS,NC 27948
Coming Soon.... The Offical Toad Fanclub
Working with Toad's number 1 fan, plans are in the works to start the offical fanclub for Toad. If you are interested, simply click here and you will be able to send email to the chairperson of the event. You can use the above link also to check out how to get the offical Toad newsletter.